| Associate Realtor Seabrook Beach, NH Office
Seabrook Beach, NH Office
240 Ocean Boulevard, Route 1A
Seabrook Beach, NH 03874
Email Phone: 603-474-3401 Fax: 603-474-3407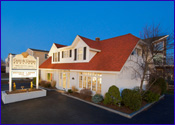 Carey and Giampa, Realtors' Seabrook office is located just steps from Seabrook's beautiful sandy beaches. With high visibility on Route 1A and just a mile past the Massachusetts border, costumers visit our office daily. Seabrook is also home to our Rental Department offering seasonal and year round rental listings. Each Realtor in our Seabrook office is customer-centric and committed to do what it takes to meet your needs. With local market expertise, they will ensure that all your expectations are met to the fullest. All of our Seabrook Realtors live locally and are proud to call the Seacoast area their home.
Hours:
Monday- Saturday 9:00 to 5:30 Summer Season
Monday- Saturday 9:00 to 5:00 Winter Season
Sunday 12-4 Year-round
Contact Information:
Phone: 603-474-3401
Fax: 603-474-3407
Email:info@careyandgiampa.com
Services offered:
Listing Services
Buyer Agency
Comparative Market Analysis
Residential Sales
Luxury Real Estate Sales
Commercial Sales
Land Sales
Relocation Services
Property Management
Rentals
To inquire about career opportunities at our Seabrook office, call Karen Kulberg at 603-474-3401 Ext. 161
About Richard
After many years living in/around Boston, Rich moved up to Hampton Falls almost 20 years ago and hasn't regretted a single minute of making that lifestyle change. Living in a 200+ year old house has made Rich truly appreciate country living and loves taking advantage of what the Seacoast has to offer.
Currently Rich is enjoying applying the sales/marketing skills he developed while being a highly successful technical sales manager for numerous "brand name" software/hardware companies with his approach to the realty market. He believes the only truly successful sale is all about achieving the highest level of customer satisfaction, not only upon the completion of the purchase or sale of a home but throughout the entire process. Rich is very happy to be working under the Carey& Giampa umbrella since they project and provide that same type of customer focus.
When not working with customers (which seems to be more and more of his time), Rich is an active supporter of the performing arts in the Portsmouth area, as a member of the Music Hall, Seacoast Rep and as part of the yearly NH Film Festival. Additionally he is a big supporter of the visual arts community especially with his involvement with many of the artists at the Button Factory and Nahcotta Gallery.
Rich looks forward to making many new customers happy with their decision to either start living on the Seacoast or finding a new home here.